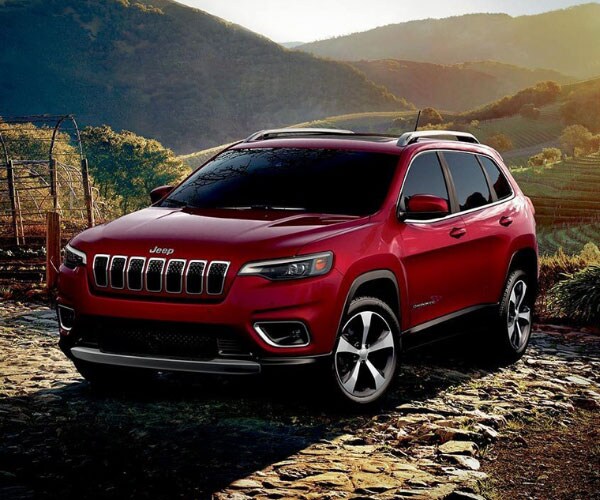 If you are in the market for a small SUV that possesses the capability to give you a strong off road ride, then you should consider test driving the 2019 Jeep Cherokee. Jeep has improved the appearance of the exterior for the 2019 Cherokee, as well as made several upgrades that include a more powerful engine.
Jeep has changed the composition of the sheet metal that forms the new and improved exterior. The addition of a few storage bins for smaller accessories such as smartphones makes the 2019 Cherokee ideal for professionals that travel short distances on business. An optional turbocharged 2.0-liter four-cylinder engine generates much more power than any engine option placed under the hood of the 2019 Honda CR-V.
Let's compare the important specs between the 2019 Cherokee and the 2019 CR-V.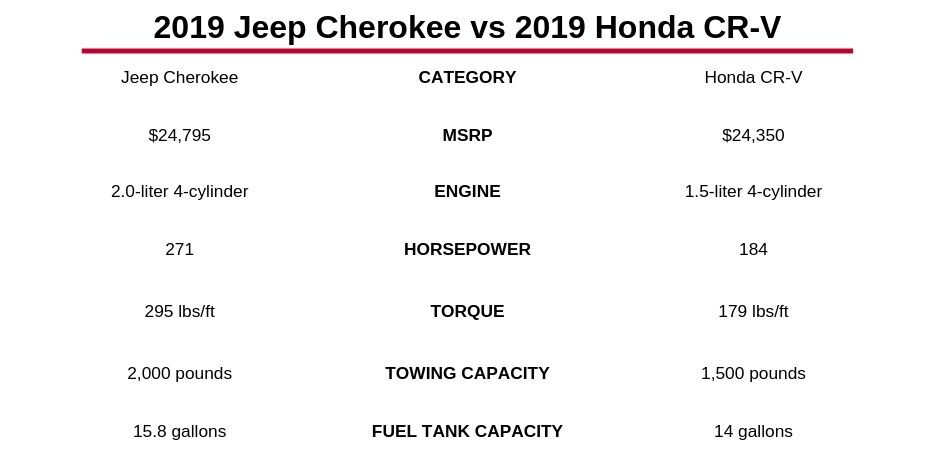 The 2019 Jeep Cherokee is much more than an off road legend. Smooth handling and steering make the 2019 Cherokee the perfect SUV for driving over any road condition. The crossover SUV handles especially well on roads that move over undulating terrain. Despite the higher center of gravity associated with most SUVs, the 2019 Jeep Cherokee performs much better in the handling department than what many models of sedans deliver. Packing quite a punch, the 2.0-liter four-cylinder engine generates 271 horsepower, making it the better option for hauling cargo when compared to the power generated by the engine under the hood of the 2019 CR-V. Applying the brakes to come to a stop from 60 miles per hour covers a little more than 120 feet.
Features of the 2019 Jeep Cherokee
Designed with a wide variety of enhanced technology features, the 2019 Jeep Cherokee takes the phrase 'cutting edge" to the next level. The improved audio system delivers clear sound, without succumbing to the over dubbing of bass heard inside other styles of vehicles. You have more ways to charge mobile devices, as well as watch videos on a highly responsive touchscreen. Apple CarPlay and Android Auto come standard with the 2019 Cherokee. Jeep outperforms Honda once again by installing advanced safety features that include blind spot monitoring and lane keeping assist. Adaptive cruise control ensures the 2019 Jeep Cherokee adjusts speeds to match every type of driving condition.
Jeep Cherokee Trims
Jeep's crossover SUV comes in five primary trims. The Latitude is the base trim and the Latitude Plus appeals to Cherokee fans that want to operate a more upscale entertainment system. Jeep offer the Latitude, Limited, and Overland trims with either front or all-wheel drives. As the ultimate off road SUV, the Trailhawk trim runs on an all-wheel drive.
Come out to Stoltz of DuBois to test drive a 2019 Jeep Cherokee!